The Faculty of Medicine, University of Colombo is an institute with an outstanding reputation for gifting to the world many distinguished doctors. This state funded institution which is the second oldest medical school in Australasia selects students on a competitive basis from among the cream of high school students. The students pursue their studies with utmost dedication to reach the highest standards in their chosen career path. The unmatchable clinical exposure provided by the teaching hospitals and the brilliant and committed academics and clinical staff are among the many strengths of this institution. Apart from the academic activities, Faculty of Medicine, is committed to providing the best learning environment that is conducive to training holistic graduates who can rise up to challenges with confidence. They are provided with training to practice the profession adhering to ethical norms and with commitment. They are provided with numerous opportunities to display and develop many talents through extra-curricular activities, ranging from sports, art, literature, photography through various clubs and associations under the guidance of Faculty.
The Faculty of Medicine has highly skilled academics who have received training in centers of excellence overseas. There are many collaborative research projects which are partnered by overseas and local universities which has reaped bilateral benefits.
Situated in the heart of Colombo the industrial capital of Sri Lanka, it is easily accessible to visitors. All are welcome to visit this hallowed institution and I extend an open invitation to all to collaborate with the final aim of creating a better world for all to live in.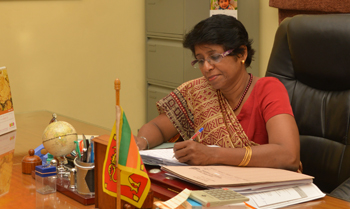 Professor Jennifer Perera,
Dean & Chair Professor of Microbiology,
MBBS(Col), MD Microbiology(Col), MBA(Wales)
About Dean
Professor Jenifer Perera completed her doctoral studies in Medical Microbiology in 1986 and became a Professor in Microbiology 2001 and currently holds the position of Dean and Chair Professor in Microbiology at the Faculty of Medicine, University of Colombo. She has completed a PG Diploma in Medical Education and Women's studies from Universities of Dundee and Colombo respectively and also completed a MBA from University of Wales. She is a fellow of the Sri Lanka College of Microbiologists and National Academy of Sciences of Sri Lanka.
Professor Jenifer has trained and examined undergraduates for 38 years and postgraduates for 30 years and has served in numerous committees related to curriculum and examinations in the faculty. She was an active member in the re -orientation of medical curriculum that was launched in 1996. I have attended numerous staff development programs for self-development and later became a resource person for staff development programs.
She has contributed to Microbiology related sciences through conduct of research and in the process contributed to human resource development, Pioneered the use of Molecular Biology for the diagnosis of infectious diseases in general and specifically tuberculosis in Sri Lanka, Contributed to the literature on  rapid diagnosis of tuberculosis and drug resistance of M tuberculosis using molecular methods.