The Department of Pathology is involved in undergraduate and postgraduate teaching, research and diagnostic work which includes histopathology, haematology and cytology.
Since the beginning of the Faculty of Medicine-Colombo, Pathology has remained a subject in the medical curriculum. In 1941 the Department of Pathology was established as a separate unit in the second floor of the current building. The department aims to produce medical graduates who are able to link the cause and effects of disease and to apply this knowledge in providing optimal patient care.
The department is also a post graduate training centre providing training for MD (Histopathology) and MD (Haematology). The specialized areas of diagnostic and research work by the department include perinatal, breast, renal, breast, lymphoma, skin, urological, bone and soft tissue pathology and haematopoietic stem cell transplantation and haemato-oncology. The department provides leadership in research, policy formulation and quality assurance in pathology and functions as a national referral centre and centre of excellence for diagnostics providing services to pathologists working in hospitals all over the country.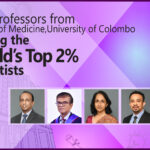 Five researchers from the Faculty of Medicine, University of Colombo,  Prof. Senaka Rajapakse, Prof. Saroj Jayasinghe, Prof. Nadira Karunaweera, Prof. Ranil Jayawardena and Prof. Priyanga Ranasinghe, (from left to right) are ranked among World's Top 2% Scientists in the updated Science-wide author databases of standardized citation indicators published in October 2021. The analysis is…