Department of Medical Humanities
Department of Medical Humanities
The Department of Medical Humanities, which was established in 2016, is one of the newest departments in the Faculty. It is the first department dedicated to the Medical Humanities among universities in Sri Lanka, and is a pioneer of the discipline in the South Asian region.
The field of Medical Humanities encompasses a wide range of disciplines, such as ethics, psychology and the social sciences (cultural studies, anthropology and medical sociology), as well as the critical use of artistic and literary works to understand the human experience in health and illness. The core goal of the Department is to use the field of Medical Humanities to foster qualities of compassionate care, professionalism and ethics in medical and other healthcare professionals. In addition to this, we will promote the inclusion of the humanities in healthcare at an institutional and individual level, conduct research in the discipline, especially in areas relevant to Sri Lanka, and take a leadership role in the development of Medical Humanities in Sri Lanka.
The Department will support and take a lead role in the existing educational programme conducted by the Behavioural Sciences Stream. It will focus on addressing six themes, Humaneness, Personal Development, Health & Behavior, Effective Communication, Medical Ethics and Professionalism.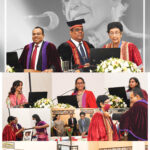 The second Professor Carlo Fonseka Oration in Medical Humanities was held on 9th August 2022 at the New Building Lecture Theatre. Professor Anoja Fernando, Emeritus Professor of Pharmacology, University of Ruhuna and member, UNESCO International Bioethics Committee delivered the oration on the topic "Creative Malady". The event was organized by the Department of Medical Humanities…