The Department of Physiology is dedicated to helping medical, paramedical science students and postgraduates to understand how the human body works through the fundamental physiological processes and translating these to clinical practice. The department plays a major role within the faculty teaching activities and collaborates with teaching activities in many other departments and units, including the Allied Health Sciences Unit and the Postgraduate Institute of Medicine as well.
The department also conducted the first International course on Laboratory Animal Science in the Asian region in collaboration with the Utrecht University, Netherlands in 2011 and the first Certificate Course on Medical Laboratory Technology in 2013.
The development of a Physiology Museum, a Certificate course for Medical Laboratory Technicians and the development of a Neurophysiology laboratory are some of the new advances in the department. It has a spacious air-conditioned lecture theatre which can accommodate up to 200 students. There are two student laboratories, research laboratories, staff rooms, office area and a rest room.
The department also provides diagnostic services through both basic laboratory testing as well as specialized services such as lung function testing.
The mission of the department states,
To produce a graduate who understands the normal body functions, links pathological conditions to the derangement of normal physiology and applies this knowledge in the treatment of human diseases.
To contribute to research in basic and applied physiology in collaboration with other disciplines and institutions.
To provide a supportive environment for optimal teaching, learning, research and self development.
The academic and non-academic staff members extend their united efforts to maintain the excellent academic standards in the faculty. The staff members actively participate in all faculty and university activities and contribute to the optimum functioning of the department.
Prof. Mangala Gunatilake received the prestigious Charles River Prize in Laboratory Animal Science and Medicine of the American Association for Laboratory Animal Science from the President of the AALAS at the 73rd Annual Meeting of AALAS at the International Convention Centre in Louisville, KY, USA. The Charles River Prize has been awarded since 1978 to…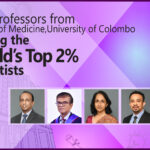 Five researchers from the Faculty of Medicine, University of Colombo,  Prof. Senaka Rajapakse, Prof. Saroj Jayasinghe, Prof. Nadira Karunaweera, Prof. Ranil Jayawardena and Prof. Priyanga Ranasinghe, (from left to right) are ranked among World's Top 2% Scientists in the updated Science-wide author databases of standardized citation indicators published in October 2021. The analysis is…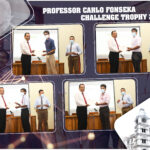 Seeing undergraduates being motivated to learning more on physiology, on their own volition, without the threat of examinations behind them, is an achievement by itself for the academics at Physiology Department, Faculty of Medicine, University of Colombo. In fact, it was quite a busy season of winning quizzes for our students, both at an international…