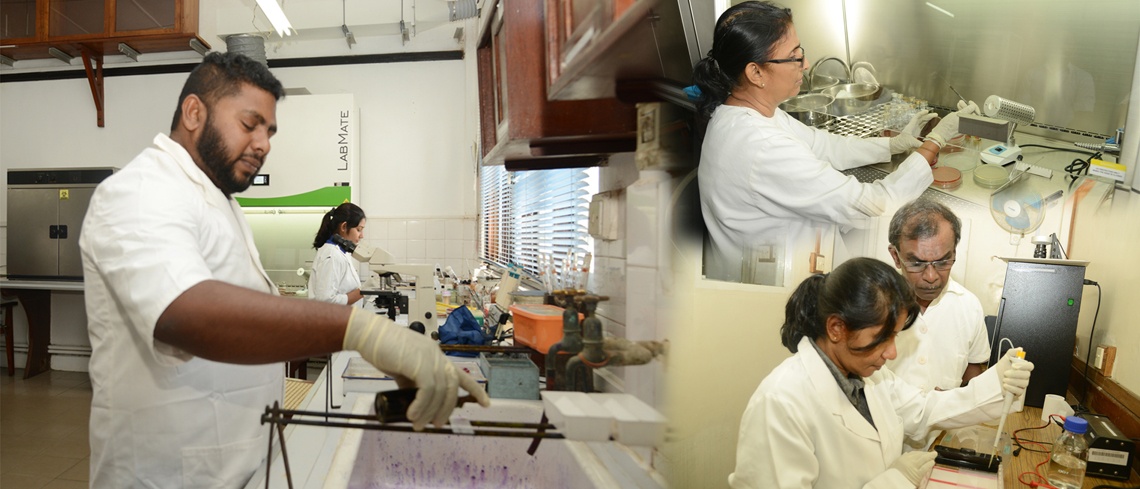 Department of Medical Microbiology and Immunology
Department of Medical Microbiology and Immunology
The subject of Bacteriology was initially taught under the purview of the Department of Pathology. A separate department for Bacteriology was established in 1956 as the 12th Department in the Faculty of Medicine, Colombo. Dr T.E.D Chapman was appointed as the first Professor of Bacteriology in 1958. The nomenclature was changed as the Department of Microbiology in 1976 in view of the sub-specialties included.
The Department conducts teaching for undergraduates, postgraduates, medical laboratory technicians and para-medical personnel. The Department of Microbiology is a center for postgraduate courses conducted by the Post Graduate Institute of Medicine (PGIM). The Department makes a significant contribution to training PGIM trainees in research methodology and research ethics. Academic staff supervise research projects on courses which include a research component and dissertation.
The Department delivers expert microbiological diagnostic services to the public. The Department of Medical Microbiology and Immunology provides laboratory services which cater to hospitals and clinicians in both the government and the private sector. Some of these are highly specialized tests are only available in our laboratory in Sri Lanka.
Academic and Technical staff engage in research in Microbiology especially in the areas of tuberculosis, melioidosis, varicella zoster virus and antibiotic resistance.