Department of Medical Education
Department of Medical Education
The Medical Education Development and Research Centre (MEDARC), Faculty of Medicine, University of Colombo, was established in 1993 with the primary aim of supporting the curriculum change within the Faculty. Over the years, MEDARC has evolved into a national center for medical education. In August 2016, it underwent an upgrade and was officially designated as the Department of Medical Education at the University of Colombo.
Today, The Department of Medical Education provides expertise and functions as a resource center in medical education not only for the Faculty of Medicine, University of Colombo, but also for all medical faculties across the country and for the Postgraduate Institute of Medicine (PGIM). Its extensive collaborations span local, regional, and international institutes dedicated to health, medicine, and medical education. Internationally, the department has earned recognition as a center of excellence in medical education, and it was honored with the designation of a WHO Collaborating Centre.
The department's wide- ranging activities include research in medical education and related fields, curriculum development in health professions, comprehensive reviews and evaluations of the MBBS course, and the provision of educational support to both staff and undergraduates includes various aspects of teaching/ learning, assessment methods and in educational research.

A Medical Education Symposium entitled "Redefining the Medical Graduate" was organized by the Department of Medical Education, Faculty of Medicine, University of Colombo to mark the 30th anniversary of the Department. The event took place on the 12th September 2023, at 1:30 pm at the Mini-auditorium located on the first floor of the UCFM tower.…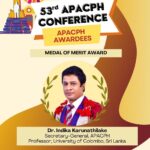 Prof. Indika Karunathilake was awarded the Asia Pacific Academic Consortium for Public Health (APACPH), Medal of Merit Award on 22nd September 2022, during the 53rd conference of APACPH, hosted by University of Phillipines, Manila, Philippines. APAPCH Medal of Merit recognizes individuals who have contributed outstanding service consistent with APAPCH mission of enhancing professional education for…