The department has pioneered the teaching of Psychiatry for undergraduates in Sri Lanka. In 1995 with the curriculum revisions a separate Mental Health Module and two months of clinical attachments were introduced. In 1995 the department became the first among medical schools in Sri Lanka to introduce the evaluation of Psychiatry as a separate subject in the final year.
In response to emerging needs the scope of the department was widened in order to have a greater impact on improving mental health care in Sri Lanka. The department contributes to the teaching of Behavioural Sciences, Biomedical Ethics, and Child and Community Psychiatry. The Department provides specialized inpatient and outpatient psychiatric services to adults, adolescents and children and facilitates clinical training in the University Psychiatry Unit, National Hospital, Sri Lanka and Lady Ridgeway Hospital, Colombo. The Department also provides a specialized cognitive assessment service.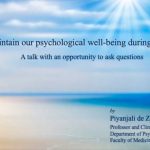 The current COVID-19 pandemic is seen to be associated with stress among some individuals, worldwide. Having strategies at hand to manage one's psychological well-being during these times would be most useful. This presentation offers you just these strategies that may help you to tide through these times.