Department of Pharmacology – Services
Department of Pharmacology – Services
Laboratory Services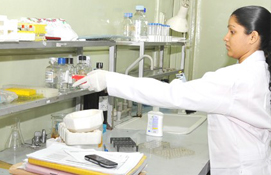 The Laboratory in the Department of Pharmacology, perform a number of laboratory investigations as a paid service. All test results will be available the same day.
Drug Information Service
The Department of Pharmacology of the Colombo Medical Faculty, in collaboration with the Ministry of Health inaugurated a Drug Information Service and Monitoring of Adverse Drug Reactions in January 1999. This unit is named INFO-VIG.