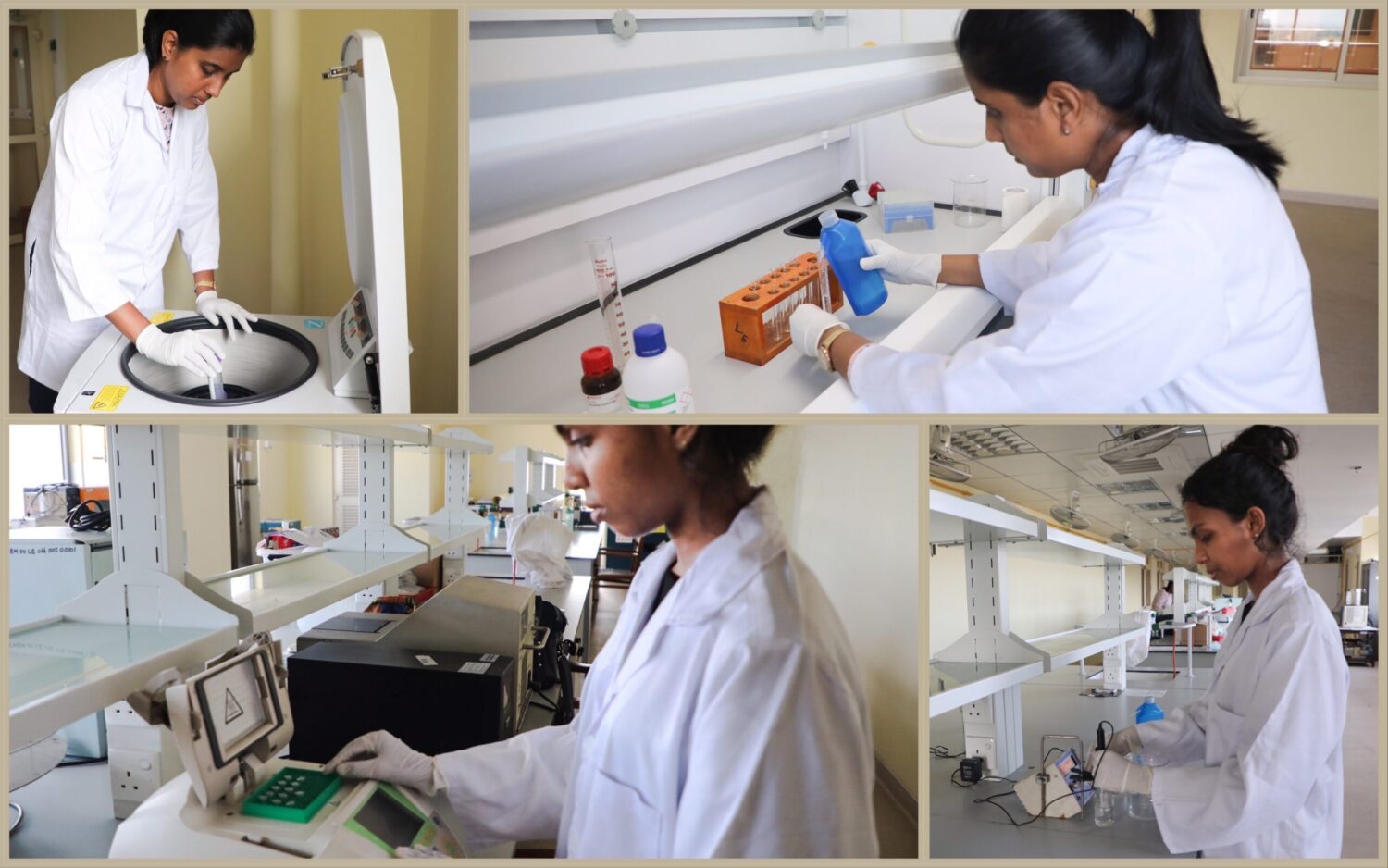 Department of Biochemisrty & Molecular Biology – Research
Department of Biochemisrty & Molecular Biology – Research
The Department of Biochemistry and Molecular Biology at the Faculty of Medicine, University of Colombo comprises an exciting community of talented researchers and academics. Academics and research students of the department conduct research in a welcoming scientific setting based on intra- and inter-departmental collaborations. Our staff members have published research findings in reputed journals and some have received patents for their inventions. The department has the necessary facilities to conduct research related to the basics of Biochemistry, Molecular Biology, Nutritional Biochemistry, Cell Biology, and Genetics. Our well-experienced technical staff also provides dedicated support to ongoing research activities in the department.
Areas of department research include:
Natural products-based anti-cancer drug discovery and production and commercialization of natural remedies for cancer
Isolation and characterization of bacterial proteins using native bacteria for cancer treatment
Development and validation of tools in the assessment of dietary intake and novel biochemical risk markers and genetic polymorphisms in CVD.
Assessment of body composition and energy expenditure using stable isotopes
Development of PCR-based techniques for the identification of plant fungal pathogens
Identification of histone deacetylation and DNA methylation inhibitors
Inborn errors of metabolism
Lipidomics
Nanotechnology-based drug discovery approaches
Investigation of microbial biofilms in biodegradation of petroleum hydrocarbons and in infectious diseases
Publications (2020-2023)
2023
Dabare P, Wickramasinghe P, Waidyatilaka I, Devi S, Kurpad AV, Samaranayake D, de Lanerolle-Dias M, Wickremasinghe R, Hills AP, Lanerolle P. Prediction Equation for Physical Activity Energy Expenditure in 11–13-Year-Old Sri Lankan Children. Nutrients. 2023 Feb 10;15(4):906.
Wijesekara MA, Gooneratne LV, Jayasena S, Kottahachchi DU, Perera D, Jayasiri A, Wimalachandra MC, Hewageegana AU, Soysa P. Molecular Basis and Potential Molecular Mechanisms of Action in Natural Products as Therapeutic Agents Towards Multiple Myeloma. Tropical Journal of Natural Products Researh. 2023; 7(2):2305-2315
Thambyrajah JC, Dilanthi HW, Handunnetti SM, Dissanayake DW. Serum melatonin and serotonin levels in long-term skilled meditators. EXPLORE. 2023 Mar 22.
Dharmawickreme B, Witharana C. JAK2V617F Allele Burden in Diagnosis and Therapeutic Monitoring of Myeloproliferative Neoplasms. European Journal of Medical and Health Sciences. 2023 Feb 18;5(1):35-40.
Siraj MF, Mathew D, Witharana C. A Novel Thermostable Alpha Amylase Producing Caldimonas Variant From A Hot Water Spring In Sri Lanka. International Academic Journal of Applied Bio-Medical Sciences. 2023; 3 (5), 11-22
Ediriweera MK, Rajan P, Cho SK. Repurposing bempedoic acid as a histone deacetylase 6 inhibitor. International Journal of Epigenetics. 2023 Jan 1;3(1):1-5.
Ediriweera MK, Jayasena S. The Role of Reprogrammed Glucose Metabolism in Cancer. Metabolites. 2023 Feb 25;13(3):345
Mututanthri S, Thoradeniya T, Harris R. Development and validation of a quantitative food frequency questionnaire to assess free sugar intake among Sri Lankan preschool children. Journal of Nutritional Science. 2023;12:e14.
2022
Thillan K, Lanerolle P, Samaranayake D, Thoradeniya T, Wickramasinghe P. Association of inflammation with adiposity related metabolic derangements and waist-to-height ratio in predicting insulin resistance and low-grade inflammation among 8-9-year-old children in an urban area of Sri Lanka. Sri Lanka Journal of Child Health. 2022 Dec 5;51(4):503-12.
Kalaichelvi T, Lanerolle P, Samaranayake D, Thoradeniya T, Wickramasinghe P. Socio demographic, economic and lifestyle predictors of high adiposity among primary school children aged 8-9 years in Colombo Municipal area. Ceylon Journal of Medical Sciences, 2022
Lucas MN, Edirisnghe N, Lanerolle P, Senarath U, Peter A, Hills VP. Infant and young child feeding (IYCF) practices from birth to 2 years: A longitudinal follow-up study in healthy children from Colombo, Sri Lanka. Sri Lanka Journal of Child Health. 2022 Sep 5;51(3):423-30.
Lucas MN, Lanerolle P, Senarath U, Hills AP, Wickramasinghe VP. Is abdominal adiposity in healthy Sri Lankan neonates different from the rest of the world?. Asia Pacific Journal of Clinical Nutrition. 2022 Jun 1;31(2):264-74.
Miller V, Reedy J, Cudhea F, et al. Global, regional, and national consumption of animal-source foods between 1990 and 2018: findings from the Global Dietary Database. The Lancet Planetary Health. 2022 Mar 1;6(3):e243-56.
Lin AW, Jarrett BY, de Lanerolle Dias M, Leyaro BJ, Cassano PA, Francis DK. Food‐based calcium or vitamin D or both for osteoporosis in postmenopausal women. Cochrane Database of Systematic Reviews. 1996 Sep 1;2022(11).
de Lanerolle-Dias MS, Kulasooriya U, Hettiaratchi UP. K., Wijesekara, S., & Jayasena, S. MT (2022). Formulation and characterization of a healthy snack with a low glycemic index. The Journal of Nutrition and Food Sciences. 2022 Jan;1(1):22-33.
Wijesekara MA, Soysa P, Jayasena S, Kottahachchi DU, Perera D, Jayasiri AP, Wimalachandra M, Gooneratne LV. Protective activity of Tinospora cordifolia (Willd.) Hook. f. and Thoms. and Withania somnifera (L.) Dunal against lipid peroxidation, protein oxidation and deoxyribose oxidation. Sri Lanka Journal of Indigenous Medicine.2022; 07 (02): 636 – 644
Perera M, Wijesundera S, Wijayarathna CD, Seneviratne G, Jayasena S. Identification of long-chain alkane-degrading (LadA) monooxygenases in Aspergillus flavus via in silico Frontiers in Microbiology. 2022; 13: 898456. doi: 10.3389/fmicb.2022.898456
Wijesekara MA, Soysa P, Jayasena S, Kottahachchi DU, Perera D, Jayasiri APA, Gooneratne, LV. In vitro screening of antioxidant and anti-inflammatory capacities of plant extract Curculigo orchioides  Sri Lanka Journal of Indigenous Medicine 2022; 07 (01): 554 – 565
Samarasinghe N, Mahaliyanage D, De Silva S, Jasinge E, Punyasiri N, Dilanthi HW. Association of selected genetic variants in CBS and MTHFR genes in a cohort of children with homocystinuria in Sri Lanka. Journal of Genetic Engineering and Biotechnology. 2022 Dec;20(1):1-2.
Thambyrajah JC, Handunnetti SM, Dilanthi HW, Dissanayake DW. Higher Serum Antioxidant Capacity Levels and Its Association with Serum NOx Levels Among Long-term Experienced Meditators in Sri Lanka. Mindfulness. 2022 Apr;13(4):908-16.
Bandara UY, Witharana C, Soysa P. The Effectiveness of the Nimali Variety of Sri Lankan Punica granatum L. Fruit Extracts on Rhabdomyosarcoma (RD) Cells Concerning the Apoptotic Signaling Pathway. Asian Pacific Journal of Cancer Prevention. 2022 Feb 1;23(2):501-10.
Fernando MDM, Senathilake NHKS, De Silva BGDNK. The potential impact of pharmacogenetics on personalized medicine and medication compliance: A Review. World Journal of Advance Healthcare Research. 2022; 6: 124-132.
Ediriweera MK. DNA polymerase theta (POLQ): A druggable DNA polymerase for homologous recombination-deficient cancer cells. BIOCELL. 2022 Nov 17.
Abeywickrama HL, Rabindrakumar MS, Pathira Kankanamge LS, Thoradeniya T, Galhena GH. TMPRSS6 rs855791 polymorphism is associated with iron deficiency in a cohort of Sri Lankan pregnant women. Egyptian Journal of Medical Human Genetics. 2022 Dec 26;23(1):164.
Mututanthri S, Thoradeniya T, Samaranayake A, Harris R. Free sugar intake and associated factors among Sri Lankan preschool children. BMC Nutrition. 2022 Dec;8(1):1-9.
Kodithuwakku P, Jayasundara D, Munaweera I, Jayasinghe R, Thoradeniya T, Weerasekera M, Ajayan PM, Kottegoda N. A review on recent developments in structural modification of TiO2 for food packaging applications. Progress in Solid State Chemistry. 2022 Aug 18:100369.
2021
Silva SMSP, Siridewa K. Molecular Pharming: A New Approach for a Healthy Future by a Vast Development in the Pharmaceutical Industry. Current Trends in Biotechnology and Pharmacy. 2021 Aug 18;15(3):315-24.
Samaranayake D, Lanerolle P, Waidyatilaka I, de Lanerolle-Dias M, Hills AP, Wickremasinghe AR, Wickramasinghe VP. Association between early weight gain and later adiposity in Sri Lankan adolescents. Journal of Developmental Origins of Health and Disease. 2021 Apr;12(2):250-9.
Jayawardena R, Swarnamali H, Lanerolle P, Ranasinghe P. Effect of coconut oil on cardio-metabolic risk: A systematic review and meta-analysis of interventional studies. Diabetes & Metabolic Syndrome: Clinical Research & Reviews. 2020 Nov 1;14(6):2007-20.
Thillan K, Lanerolle P, Thoradeniya T, Samaranayake D, Chandrajith R, Wickramasinghe P. Micronutrient status and associated factors of adiposity in primary school children with normal and high body fat in Colombo municipal area, Sri Lanka. BMC Pediatrics. 2021 Dec;21(1):1-4.
Miller V, Singh GM, Onopa J, et al. Global Dietary Database 2017: data availability and gaps on 54 major foods, beverages and nutrients among 5.6 million children and adults from 1220 surveys worldwide. BMJ Global Health. 2021 Feb 1;6(2):e003585.
Dabare PM, Wickramasinghe P, Waidyatilaka I, Devi S, Kurpad AV, Samaranayake D, de Lanerolle-Dias M, Wickremasinghe R, Hills AP, Lanerolle P. Validation of accelerometer-based energy expenditure equations using doubly-labelled water technique in 11-13 year-old Sri Lankan children. Sri Lanka Journal of Child Health. 2021; 50(4): 637-643
Lucas N, Lanerolle P, Waidyatilaka I, Dias MD, Jayawickrama HS. Are we practising responsive feeding effectively in Sri Lanka?. Sri Lanka Journal of Child Health. 2021 Mar 5;50(1):134-44.
Fairoosa P, Lanerolle P, Lanerolle-Dias D, Wickramasinghe VP, Waidyatilaka I. Development of a New Equation for the Prediction of Resting Metabolic Rate in Sri Lankan Adults. International Journal of Endocrinology. 2021 Jan 20;2021.
Perera M, Chinthaka SD, Wijayarathna CD, Wijesundera S, Seneviratne G, Jayasena S. Reduction of lag in crude oil degradation by Aspergillus when it is in synergy with Bacillus in biofilm mode. Bioprocess and Biosystems Engineering. 2021 Jul;44(7):1501-10.
Dharmawickreme RB, Witharana C. Advances in Nanotechnology for Cancer Diagnosis and Therapy. Himalayan Journal of Applied Medical Sciences and Research. 2021 Oct 20;2(5).
Aminu J, Witharana C, Maigari FU, Thoradeniya ST. Ex-vivo Placental Lipid Metabolism of Normal Weight, Overweight and Diabetic Women: A Preliminary Study. Journal of Environmental Bioremediation and Toxicology. 2021 Jul 30;4(1):8-13.
Ediriweera MK, To NB, Lim Y, Cho SK. Odd-chain fatty acids as novel histone deacetylase 6 (HDAC6) inhibitors. Biochimie. 2021 Jul 1;186:147-56.
Thoradeniya T, Jayasinghe S. COVID-19 and future pandemics: a global systems approach and relevance to SDGs. Globalization and Health. 2021 May 21;17(1):59.
Rabindrakumar MS, Wickramasinghe VP, Arambepola C, Senanayake H, Karunaratne V, Thoradeniya T. Baseline iron and low-grade inflammation modulate the effectiveness of iron supplementation: evidence from follow-up of pregnant Sri Lankan women. European journal of nutrition. 2021 Mar;60:1101-9.
2020
Lucas MN, Lanerolle P, Senarath U, Hills AP, Wickramasinghe VP. Birth anthropometry from a tertiary care hospital in Sri Lanka: Differs from the WHO growth standards. Asia Pacific Journal of Clinical Nutrition. 2020 Dec;29(4):795-802.
Fernando D, Wijesundera R, Soysa P, de Silva D, Nanayakkara C, Adhikari A. A novel method to isolate inoscavin A from Fulviformes fastuosus and medicinal preparation thereof to treat rhabdomyosarcoma cancer conditions (2020). Sri Lankan patent, LK/P/1/18323. National Intellectual property office, Sri Lanka.
Ediriweera MK, Moon JY, Nguyen YT, Cho SK. 10-Gingerol targets lipid rafts associated PI3K/Akt signaling in radio-resistant triple negative breast cancer cells. Molecules. 2020 Jul 10;25(14):3164.
Gunawardena SA, Gunawardana JW, Chandrajith R, Thoradeniya T, Jayasinghe S. Renal bioaccumulation of trace elements in urban and rural Sri Lankan populations: a preliminary study based on post mortem tissue analysis. Journal of Trace Elements in Medicine and Biology. 2020 Sep 1;61:126565.
Singh VP, Jain A, Gupta S, Vijayakumar M, Pratap K, Maheshwari D, Thoradeniya T. The quality of reporting raises questions on the experimental validity of animal studies conducted in India and Sri Lanka: preliminary analysis of a systematic survey. Alternatives to Laboratory Animals. 2020 Mar;48(2):85-91.