Department of Community Medicine – Services
Department of Community Medicine – Services
Laboratory Services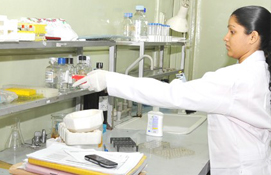 The laboratory of this department is equipped to conduct basic clinical investigations and occupational hygiene investigations for environmental monitoring. These facilities are used by undergraduates during their community/family attachment programme and during their community stream research projects. Demonstrations and practicals are conducted for Postgraduate students following the course unit in occupational health at the MSs Community Medicine Programme and for participants following extension programmes in health and safety   conducted by the department. The facilities are also been used in research conducted by staff of this department and by students reading for postgraduate degree programmes.
The laboratory was refurbished to expand its existing services to field teaching area being the MOH area, Pita Kotte. The refurbishment was made possible through funds made available by the 'Nirogi Lanka' project of the SLMA. Blood sugar and serum cholesterol estimations are carried out on an autoanalzer for mothers attending antenatal and postnatal clinics and on those attending the elderly clinics in the Pita Kotta MOH areas. These investigations are carried out by two competent senior technical officers. Lung function measurements are also conduced on patients referred by the UMO or by the NHSL. Occupational hygiene investigations such as assessment of the thermal environment, light intensity, personal exposure to dust could also be carried out. The department encourages collaborative research with other universities and the industry. A service could also be provided to the industry in conducting the above occupational hygiene investigations.
University Community Health Project – Kotte
The University Community Health Project area is one of the 337 Health Units in Sri Lanka.  It comprises of four Public Health Inspector areas namely, Ethul Kotte, Pita Kotte, Mirihana and Udahamulla. Ethul Kotte and Pita Kotte are electoral divisions of the Sri Jayawardenapura – Kotte Municipal Council, while the two areas Mirihana and Udahamulla are electoral divisions of the Maharagma Municipal Council. Kotte health project area consist of an urban and suburban communities. (Figure 1).
Since 1952, the Department of Community Medicine, Faculty of Medicine, Colombo has been responsible for providing community health services for the people of the Ethul Kotte and Pita Kotte PHI areas. On the 1st of February 1974, the University Community Health Project (UCHP) was established with the addition of two more PHI areas, viz. Mirihana and Udahamulla.  Since then, this project area has functioned as a separate health unit.
The office of the Medical Officer of Health (MOH) is situated at Pita Kotte, approximately six kilometers from the Faculty of Medicine,Colombo.