Department of Forensic Medicine & Toxicology – Medico – Legal Services
Department of Forensic Medicine & Toxicology – Medico – Legal Services
Judicial Medical Officer Services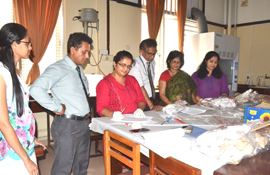 This includes Forensic pathology and clinical forensic medicine. These are provided to six police areas (Welikada,  Wellampitiya,  Thalangama, Mulleriyawa, Athurugiriya and Nawagamuwa)
Medico-legal investigation of sudden,unexpected or unnatural deaths by performing autopsies and other relevant special investigations.
Visit scenes of crime /death to assist police and courts in reconstruction of incidents.
Conduct microscopic, serological, chemical and other examination of organs, tissues and fluids taken from deceased persons.
Provide expert advice to Government Medical Officers in performing postmortem examination.
Perform exhumations and postmortem examinations on exhumed bodies.
Assist police to identify deceased persons or skeletal remains by examining specimens produce.
Perform medico-legal examinations of victims of assaults and accidents.
Examine and report on cases of drunkenness, victims of sexual assaults, persons in custody, persons referred by courts for age estimation, human rights violations and other relevant special investigations.
Conduct relevant investigations in all the above cases.
Provide   expert   advice   to   the   judiciary   and   the   Attorney-General's   Department   when   required.
Entomological   studies.
Other Services
Education of police, lawyers, magistrates, probation officers and other related professionals on various aspects of Forensic Medicine is undertaken by the academic staff.