Medical Faculty Students' Union – Activities
Medical Faculty Students' Union – Activities
Fresher's Welcome
Fresher's welcome is held to welcome the new batch of "freshers" to the prestigious faculty and is organized by their immediate senior batch with the support and guidance from the MFSU. Through this event, the freshers get an opportunity to discover and showcase their unseen talent. It will also assist the new comers to adapt to the new faculty life and the seniors will serve as role models for their future development.
Ninnada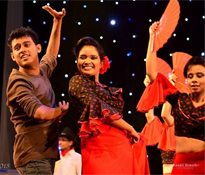 Ninnada is the focal point for the students to display their inherent talents in music, dancing and acting to the whole country. It is organized by the fourth year students with the support and guidance from the MFSU. It also receives active participation from other sister faculties in the country. The funds accrued from the concert go towards the "Ninnada Scholarship Fund" which provides the financial assistance to students in need.
Battle of Medicos
The battle of medicos is the annual cricket encounter between the medical faculty Colombo and medical faculty Peradeniya. It is organized jointly by the MFSU & FMSA in order to enhance the harmony between the two faculties. It was initiated in 2006 and medical faculty Colombo has won 6 times and medical faculty Peradeniya has never won the cup. It is held either in Colombo or in Kandy according to the organizing faculty. Through this event students get opportunity to cheer for their faculty.
Faculty trip & New year festival
The annual faculty trip and New Year festival is organized jointly by MFSU & MSWS. It is held in Benthota beach. The students of the faculty, the academic staff and the non-academic staff participate to this enjoyable event. We travel to Benthota by a reserved train starting from Maradana railway station. The New Year festival is held in Benthota beach having most of our traditional events and several new events like finding the hidden drug etc. All the members enjoy this event which is a get together for all of us.
Shramadana
The annual shramadana campaign is organized by the MFSU & MSWS for the new comers to get to know each other and to be familiar to the faculty. It is held in the faculty premises including common room, TV room, billiard room, quadrangle, canteen and summer huts under supervision of their immediate senior batch.