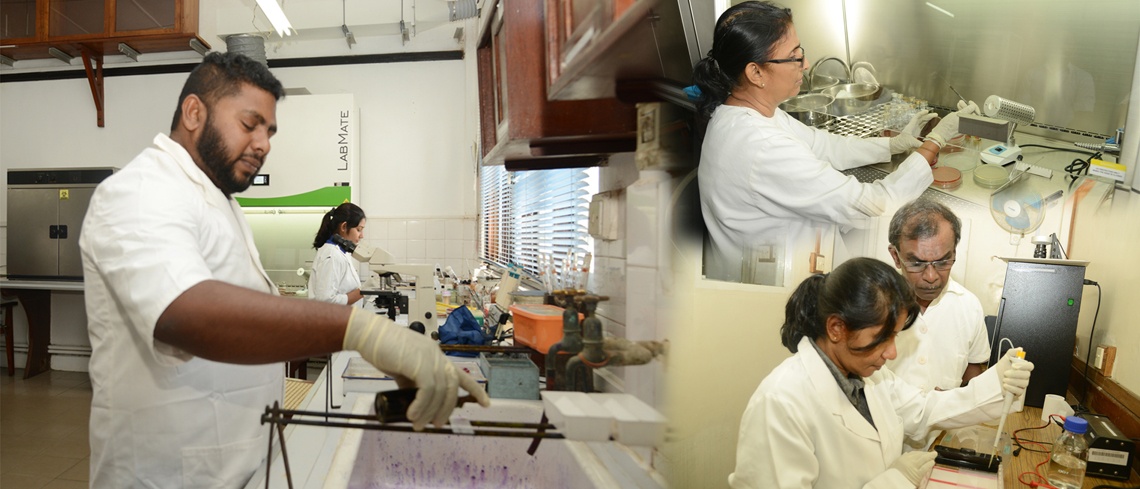 Department of Medical Microbiology and Immunology – Services
Department of Medical Microbiology and Immunology – Services
The Department of Medical Microbiology and Immunology provides other services apart from teaching activities.  The services are mainly provided by the laboratory of the Department by carrying out diagnostic microbiology tests.
Diagnosis of SARS CoV-2
The Department of Medical Microbiology & Immunology provides a special contribution with laboratory diagnosis of SARS CoV-2 during the pandemic in Sri Lanka.
RT-PCR tests are used to diagnosis of Covid-19 infection in the laboratory of the department. With the testing capacity of the laboratory, the department accepts clinical samples from The National Hospital Colombo, Sri Lanka, De Soysa Hospital for Women Colombo, Lady Ridgeway Hospital for Children Colombo, National Eye Hospital Sri Lanka and National Institute of Nephrology Dialysis Transplantation. Nasal Swabs, Nasopharyngeal Swabs and Oropharyngeal Swabs are accepted as samples from the mentioned hospitals.
The results of the tests are released with a report within 8 hours and the positive results are informed immediately to the hospitals.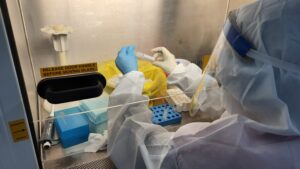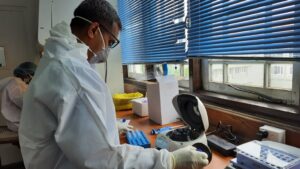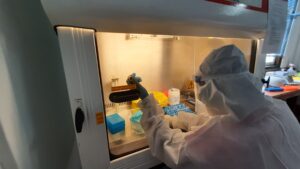 Laboratory Services
Diagnostic Tests
The Department carries out bacteriological culture and antibiotic sensitivity testing (ABST) (except anaerobic cultures) and fungal culture and anti-fungal sensitivity tests for state sector and private sector hospitals. The laboratory is the national reference laboratory for Melioidosis diagnosis. The Tuberculosis Research Unit carries out TB culture and identification of Mycobacterium spp.
Following samples are accepted,
Sputum, CSF, body fluids etc for Acid Fast Bacillus & TB Culture
Sputum, CSF, body fluids etc for PCR for TB
Urine, blood pus, body, fluids, stools, biopsy, swabs etc for Gram stain, culture & ABST
Samples for Fungal studies– smear & fungal culture
Serum for Melioidosis antibodies
Culture isolates for identification of Burkholderia pseudomallei 
Screening Test
Bacteriological Cultures and ABST are carried out for the samples sent by the Police Hospital and some private hospitals for the purpose of screening their theaters for contamination. Tests are also being done to detect Salmonella and Staphylococcus aureus carriers among food handlers of the companies which manufacture food products.
National Committees
Members of the academic staff provide consultancy to national committees, such as the National Science Foundation, National Advisory Committee on Tuberculosis, National Advisory committee on Communicable Diseases,  National AIDS Committee, National Polio Eradication Programme etc
Resource Persons
The Department provides resource personnel for conducting educational workshops  and laboratory training workshops conducted by different institutions and organizations.