Colombo Physiotherapy Week 2022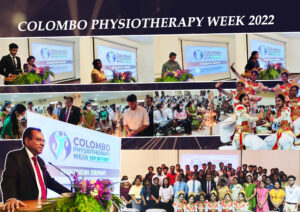 Physiotherapy Students Welfare Society, Faculty of Medicine, University of Colombo is celebrating World Physiotherapy Day by organizing "Colombo Physiotherapy Week" from September 2nd to 8th. The theme of 2022 is "Osteoarthritis and the role of physiotherapists in its treatment and in the management of people affected by osteoarthritis".
The inauguration ceremony of Colombo Physiotherapy Week took place on September 2nd, 2022 at the New building lecture hall of the Faculty of Medicine. This inauguration ceremony was held with the presence of the Dean of Faculty of Medicine, Professor Vajira H. W. Dissanayake, Head of the Department of Allied Health Sciences, Dr. Subhashini Jayawardana, Lecturers of the Department of Allied Health Sciences, Demonstrators, members of Colombo Physiotherapy Alumni Association and undergraduates.