PROF N.D. KARUNAWEERA WINS CVCD AWARD 2020 FOR THE MOST OUTSTANDING SENIOR RESEARCHER IN HEALTH SCIENCES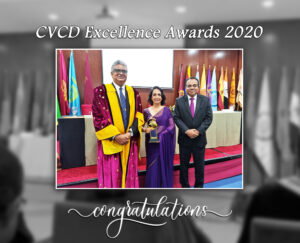 WINNER CVCD AWARD 2020 FOR THE MOST OUTSTANDING SENIOR RESEARCHER IN HEALTH SCIENCES INCLUDING MEDICINE, DENTAL SCIENCE, VETERINARY SCIENCE AND OTHER ALLIED SCIENCES

Nadira Dharshani Karunaweera is the Chair and Senior Professor of Parasitology, Faculty of Medicine, University of Colombo and an honorary Visiting Fellow, School of Public Health, Harvard University, USA. Trained as a Medical Parasitologist she has extensive teaching and research experience in human parasitic diseases.
She is an elected Fellow of the National Academy of Sciences of Sri Lanka, The World Academy of Sciences, Member of the American Academy of Arts and Sciences and International Fellow of the American Society of Tropical Medicine and Hygiene.
She is a board member of several international science policy-making bodies, including the Inter-Academy Partnership of The World Academy of Sciences and the Governance Council of the Genomic Epidemiology of Malaria Network, University of Oxford, She has served as a Consultant/advisor to the Strategic Research Steering Committee on Pathogenesis and Genomics, of the World Health Organization, for over a decade.
She is among the top 2% of scientists worldwide and has been a recipient of several competitive research grant awards. Internationally recognized awards received by the include Tropical Medicine Centre Award; R01 and RO3 awards from the National Institute of Health, USA; Global Challenge Award from Gates Foundation and Research Development Award from The Wellcome Trust, UK.
Local awards bestowed upon her include the Annual Presidential Awards for excellence in research since the year 2000, National Apex Award for Professional Excellence and the Zonta Woman of the Year Award (2009) and the most inspirational professional woman of the year award (2021) from Women in Management.
She spearheaded the establishment of the Sri Lanka National Chapter of the Organization for Women in Science for the Developing World and was the Founder President of that organization, Former President of the Sri Lanka College of Microbiologists and the current Vice President of the National Academy of Sciences of Sri Lanka.
Her research interests in the field of medical parasitology are wide ranging, including pathogenesis, epidemiology, immunity and genetic diversity, she is responsible for pioneering work in the field of leishmaniasis, She set up the first leishmaniasis diagnostic, training and research laboratory in the country.
She continues to provide academic and research supervision to a large number of undergraduate and post-graduate trainees, including MPhil and PhD-level scientists. She has published widely with a h-index of 32; i-10 index of 82 and has authored over 100 peer-reviewed journal articles with over 4000 citations, several book chapters and a large number of abstracts and invited presentations at conferences.