Physiotherapy Premier League 2022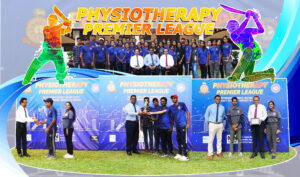 The Physiotherapy Premier League was held for two days from August 20th, 2022 at Colombo University Ground. This was organized by the Physiotherapy Students' Welfare Society.
The opening ceremony was held with the presence of the Dean of Faculty of Medicine, Professor Vajira H. W. Dissanayake, Dr. Chathuranga Ranasinghe and the executive committee members of Colombo Physiotherapy Alumni Association. The Vice Chancellor of University of Colombo Senior Professor H. D Karunaratne, Dean of Faculty of Medicine, Professor Vajira H. W Dissanayake, Deputy Registrar, Mr. H. M. W. G. P. R. A. Bandara graced the awards ceremony with their esteemed presence.
The first day was allocated for a friendly cricket tournament between the physiotherapy students of University of Colombo and University of Peradeniya. University of Colombo were the champions of both tournaments held for men and women. The second day was brimming with fun with the intra-university cricket matches between the graduate & undergraduate physiotherapy batches.
This event was proved to be a refreshing activity after years of online learning and days of living a monotonous life during the pandemic.