Colombo Physiotherapy Week 2022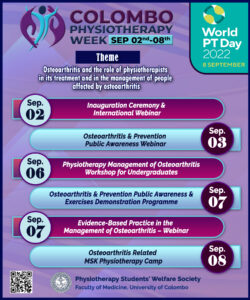 Physiotherapy Students' Welfare Society of Faculty of Medicine, University of Colombo proudly presents the "Colombo Physiotherapy Week 2022" to mark the World Physiotherapy Day 2022
#Colombo_Physiotherapy_Week_2022 consists of a series of workshops. awareness programs and webinars focusing on the general public promoting the role of physiotherapists in the prevention of osteoarthritis and in the management of people affected by osteoarthritis.
It is all about healing hands along with your dedication.
Be with us from 2nd September onwards to sharpen your knowledge with organized sessions guided by experienced professionals in the field of physiotherapy.