Inaugural Academic staff & Students Friendly Scrabble Encounter – 2022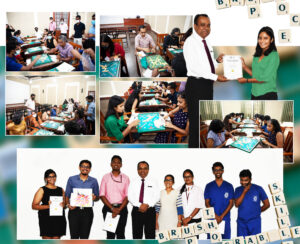 The first ever academic staff and students friendly Scrabble encounter of Faculty of Medicine, University of Colombo (UCFM), organized as a collaborative effort by the Faculty of Medicine Teachers' Association and Faculty of Medicine Sports Association of UCFM, took place on the 20th of August 2022, at the Main Hall of our faculty. Four teams comprising of six players each contested in a round robin format tournament. The event got underway with a welcome speech and introduction to the game given by the founder captain of the university Scrabble team and Faculty of Medicine alumnus, Dr. Buddhi Malinda Gunawardena, the tournament adjudicator. Apart from the contestants, many students, staff and alumni members also joined as spectators to witness the event despite their busy and hectic schedules.
All the rounds progressed smoothly amidst friendly rivalry, with both staff and students displaying amazing vocabulary skills. Refreshments courtesy of the FMTA revived the participants for a final grueling encounter in the third round. Eventually, the student team C comprising of Mr. J.N. Ariyadurai, Miss D.G. Wickramasinghe, Mr. M.M. Manchanayake, Mr. N.N. Wijesuriya, Mr.W.A. Ronal Vilash, and Miss W.J. Chalani Wathsala emerged as champions by beating all the other teams. Academic staff team A comprising of Dr. Dilushi Wijayaratne, Prof. Sameera Gunawardena, Dr. Yamuna Rajapakse, Dr. Naveen Wijekoon, Dr. Lakmali Amarasiri and Prof. Saroj Jayasinghe emerged runners up having won against student team C and staff team B. The highest scoring word "ESQUIRED" was played by Miss Sadini Upeka for 94 points while Dr. Dilushi Wijayaratne won the award for best player, scoring a cumulative margin of +276 points.
The Dean of UCFM and several Executive Committee members of the FMTA graced the occasion and participated in the distribution of awards and certificates. It was an enjoyable and rejuvenating evening for the staff and the students who participated and they were hopeful that this could be taken forward as a regular activity in the faculty calendar.