Professor Carlo Fonseka Challenge Trophy Quiz & 7th Inter-Medical Faculty Physiology Quiz – 2022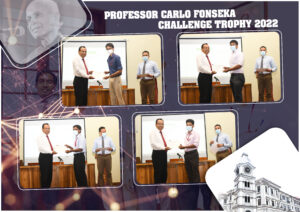 Seeing undergraduates being motivated to learning more on physiology, on their own volition, without the threat of examinations behind them, is an achievement by itself for the academics at Physiology Department, Faculty of Medicine, University of Colombo.
In fact, it was quite a busy season of winning quizzes for our students, both at an international as well as an all island setting. A team of 5 students from AL 2017 batch received the Professor Carlo Fonseka Challenge Trophy for 2022 by winning the first place at the 7th Inter-Medical Faculty Physiology Quiz organised by the Physiological society of Sri Lanka.
Team members were Manul Gunasekara, Pumudu Weerasekara, Geshan Gunawardene, Geeth Gunasinghe and Osanda Jayakody. Dr. Sahan Guruge, from our department, coordinated the teaching and logistics behind this endeavor for the students. This was a competition which was organized by multiple academics representing all state universities of Sri Lanka, and teams from all state medical faculties in Sri Lanka participated. We are very proud of our students for defending the title our alma mater, University of Colombo, achieved from the previous year as well.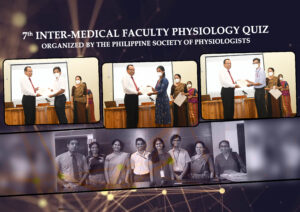 Our students also raised the flag of our country with pride, by becoming the first runner up at the "5th Dr. Agaton T. Danonio Jr. – Inter-Medical School Physiology Quiz Bee". This was organized by the Philippine Society of Physiologists. The team was composed of students Harindu Kirihena, Sachini Wijewardena and Minul Doluweera from AL 2019 batch. Professor Mangala Gunatilake coordinated the logistics behind participating in this quiz. At a time when Sri Lanka was going through a severe economic crisis with long power cuts, poor data signals and lack of fuel, these students somehow strived with much determination to bring glory to our motherland.