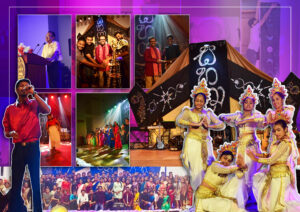 The Freshers' Welcome is an annual event commemorating the traditional welcome for the newest intake of students of a faculty hosted by their immediate senior batch. Each year, the Faculty of Medicine, University of Colombo, hosts a unique welcome for their junior-most batch which spans over a duration of 3 to 6 months. This faculty event is organized by the immediate seniors of the junior-most batch, on behalf of the Medical Faculty Students' Union (MFSU) and Medical Students' Welfare Society (MSWS).
This welcome is unique in the sense that it is not limited to just one event of music and dancing, but in it being a series of events to identify the talents of the juniors. Each year, the Freshers' Welcome hosts will pick a theme and the Freshers' Welcome begins. This year, it was hosted by the 2018 A/L batch for the 2019 A/L intake and the theme was an intergalactic space voyage incorporated into the Freshers' Welcome events of quizzes, singing, dancing, poetry, short story writing, art, photography, compering and drama competitions.
The singing and dancing competitions consisted of 3 rounds each and the final round was held on the day of the Junior Talent Show on the 14th of August, 2022 at the UCFM Tower Auditorium. The finalists of the singing competition showcased their talents in front of an esteemed panel of judges, composed of renowned musicians; Mr. Dayan Witharana, Mr. Thilina Sudesh, Mr. Sadara Bandara and Mr. Methun SK. A highlight of the night of the Junior Talent Show was the performance of the orchestra of the 2018 A/L batch. The event also included singing and dancing items performed by the 2018 A/L batch.
The decorations and the planning of the series of events of the Freshers' Welcome were done by the students amidst their busy academic and clinical schedules and many joyful nights were spent at the faculty amphitheater brainstorming and planning the Junior Talent Show.
The hard work of the organizing committee with the constant guidance and supervision of our Dean, Professor Vidya Jyothi Vajira H W Dissanayaka, the Senior Treasurer of MSWS, Dr. Lakmali Amarasiri and the Senior Treasurer for the Freshers' Welcome 2022, Dr. Kumarangie Vithanage; resulted in the successful culmination of the Freshers' Welcome Sahashra 2022, in a night of talent, fun and fellowship. The Freshers' Welcome 2022 thus concluded in a glamorous night of dance and music and fellowship fostered at our beloved alma mater. We are confident that the beautiful tradition of Freshers' Welcome shall continue in the generations to come.