Centre For Training Research & Diagnosis Of Leishmaniasis – History
Centre For Training Research & Diagnosis Of Leishmaniasis – History

The centre was first established in a small room as a sample collection and microscopic examination area, in year 2001 with limited resources and expertise. The clinic served health care institutions from all parts of the country since its inception while facilitating ongoing research investigations regarding the transmission as well as other aspects of research. The clinic has continued to offer free laboratory investigations, weekly patient evaluations, and follow up services for more than 3000 patients from over 25 health care institutions in this country.
 This clinic has now expanded and become the Centre for Training, Research & Diagnosis of Leishmaniasis, which continues to offer free laboratory & supportive services. It has also extended its services to include training and research on leishmaniasis.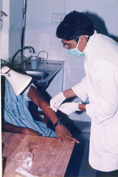 The first outbreak of leishmaniasis was detected in 2001 and  immediately thereafter many research studies commenced. The studies aimed at confirming local transmission and finding further local cases. The first study covered parasitological, clinical, diagnostic and epidemiological aspects of the infection. The National Science Foundation, Sri Lanka & the Commonwealth Doctoral Scholarship Association, UK, supported the first activities of the centre. Research expanded over the years into different areas and today we conduct many studies with regard to clinical epidemiology, parasitology, animal reservoirs and human studies with a number of students continuing to work on these aspects.
Established further in 2012 we succeeded in launching the first international colloquium on leishmaniasis . The centre has now become a hub for training professionals. It consists of laboratory and insectary sections being developed by the team members.